With this DUKASCOPY Review we want to find out if you can really trust this Swiss Broker. We conducted an in-depth review in May 2022 to find out the answer and bring it to you!
---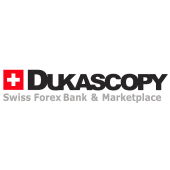 Dukascopy Bank SA is an innovative Swiss online bank. It was founded and is based in Geneva, Switzerland, and provides Internet and mobile trading services, banking and other financial services through its own proprietary technological solutions.
The company was established in 2004 and has multiple offices in various regions around the globe, including Zurich, Riga, Kiev, Moscow, Kuala Lumpur and Hong Kong.
The Dukascopy Group mainly focuses on online and mobile trading services through its own proprietary technology solution and registered trademark Swiss Forex Marketplace (SWFX).
---
OUR RATING: 6.5
The overall raiting is based on review by our experts

👌 Reliability: 7 / 10
📈 Spread: 8 / 10
🞧 Offers: 7 / 10
🚅 Speed of Execution: 8 / 10
📧 Customer Service: 1 / 10
👍 Uptime: 8 / 10
Trading Conditions
Max Leverage:
200:1
Platform:
Min Deposit:
$100
Spread:
From 0.2 Pips
Cuts out Dealing Desk:
Yes
Methods of deposit and offers
Deposit / Withdraw:
Welcome offer:
100% bonus
Rebates Engine Forex:
Coming soon!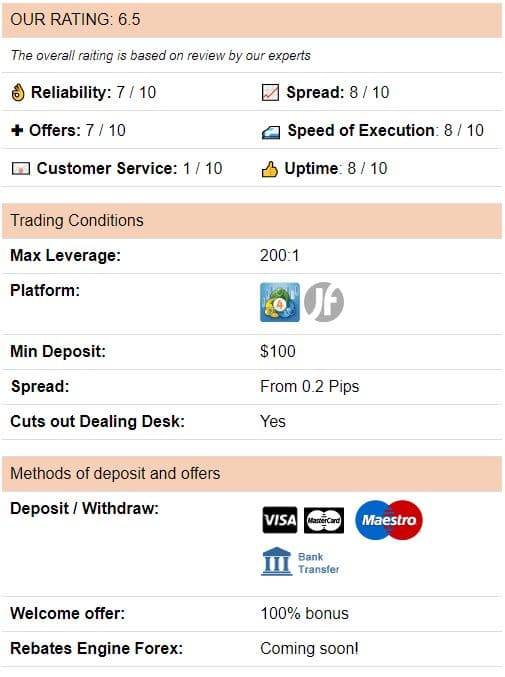 SECURITY, MARGINS AND TECHNOLOGY
SECURITY AT DUKASCOPY BANK
Regulated by the FINMA
No dealing-desk intervention
Guarantees Negative Balance Protection (Dukascopy Europe)
Dukascopy Bank SA is regulated by the Swiss Financial Market Supervisory Authority FINMA both as a bank and a securities dealer.
All of Dukascopy Bank's group entities are fully and directly owned by Dukascopy Bank.
Next to Dukascopy Bank, subsidiaries active in online trading are:
Dukascopy Europe IBS AS is an EU licensed investment brokerage company based in Riga, Latvia, regulated by the Financial and Capital Market Commission of Latvia (FCMC).
Dukascopy Japan K.K. is a Type-1 licensed broker located in Tokyo, Japan, regulated by the Financial Services Agency of Japan (JFSA).
Dukascopy Bank's philosophy focuses on maintaining a high level of transparency, security and trust, allowing all its clients to access the same amount of information, reporting and liquidity.
As a Forex broker, Dukascopy Bank and its subsidiaries is licensed and regulated by various international regulatory entities.
DUKASCOPY BANK
PEPPERSTONE
THINK MARKETS
IC MARKETS
CMC MARKETS
XM
ECN/STP type broker
Tiered commission structure
Up to 200:1 leverage
Minimum deposit from $100
The Swiss banking giant Dukascopy keeps it simple by limiting the choice between one type of live ECN account or a demo account. Both retailers and institutional clients can use the demo account to trial the marketplace upon registration for currency and precious metal trading.
As an ECN/STP type broker, Dukascopy Bank charges its clients a commission on all trades they execute on its trading platforms.
Depending on account sizes and monthly traded volumes, different commissions and overnight fees are applied. At the base level, trading fees of $7 per lot R/T on Forex trading apply. At the top-tier level, these charges are drastically reduced to $2 per lot R/T for currency trading.
Here's an overview of Dukascopy Bank's competitive, tiered commission structure (excluding stocks and indices):
The minimum deposit size of accounts with Dukascopy Europe is $100, while the minimum for Dukascopy Bank SA is $5,000. Several additional features are available depending on the client profile and type of account:
Both money managers and clients looking for managed or investment accounts can benefit from Dukascopy's PAMM solutions. These PAMM accounts offer sophisticated reporting and risk management tools in addition to the overall unique trading/investment environment.
The minimum margin required to open a position depends on the desired leverage, financial instrument and the current market prices. The minimum equity requirment for self-trading Dukascopy accounts is 20 CHF.
Unique SWFX technology
Proprietary JForex platform
NDD or STP
Bridge to MT4 option
All Dukascopy trading platforms provide access to its Swiss FX Marketplace (SWFX), which is a unique technological solution for trading that employs a centralized-decentralized marketplace model. Connected to the ECN, it allows access to raw interbank spreads for currency pairs (Forex), commodities and CFD markets.
Using the FIX API, the SWFX system is connected to a network of more than 20 banks. This large pool of liquidity providers allows Dukascopy Bank to provide its customers with an amazing trading environment with high speeds, stable trade execution and very low spreads. Market orders are executed automatically through straight-through processing (STP).
SWFX specialises in institutional liquidity and instant execution. Among the existing 10 Forex marketplaces in the world, Dukascopy SWFX has acquired a unique and outstanding position by combining the liquidity of the world's biggest marketplaces.
Its proprietary JForex 3 trading platform, available on desktop, web-based and Android or Apple iOS apps, enables all types of traders to access Dukascopy SWFX from any device. The implemented universal trading tool allows clients to develop and test trading strategies through JAVA programming.
JForex 3 is a well-developed, easy-to-use platform that allows manual, automated and direct chart trading with more than 250 indicators and charts for technical analysis (on the desktop version; web and mobile versions have fewer indicators and charts available). The platform provides a calendar of economic news and events on all platform versions.
All platforms support a wide range of trading orders, such as Market, Limit, Stop, Take Profit, Stop Loss, Stop Limit, Trailing Stop, OCO, IFD etc. Further, the 'Slippage Control' functionality allows users to control maximum price slippage upon execution.
Dukascopy does not allow direct access to the world's favourite trading platform, MetaTrader 4; however, it can be used via third-party API solutions to connect Dukascopy's SWFX Marketplace with an MT4 bridge.
In addition to JForex 3 and MT4 connectivity solutions, Dukascopy offers a web-based and mobile (both Android and iOS) Binary Trader that allows users to exclusively trade binary options.
As far as trading types are concerned, customers can choose between call/put options and touch options with different maturities. In contrast, there are no restrictions for the asset classes. The asset classes Forex, stocks, indices and commodities are available.
Trading binary options is commission-free, and contracts start from as low as $1.
Execution of Speed Comparison

DUKASCOPY BANK
PEPPERSTONE
THINK MARKETS
IC MARKETS
CMC MARKETS
XM
CUSTOMER SERVICE, TRADING OPTIONS AND SPECIAL FEATURES
CUSTOMER SERVICE AND CLIENTS SUPPORT
24/7 customer support
Multi award winning broker
Extensive educational section
Exclusive promotions, bonuses & contests
Dukascopy offers 24/7 client support via live chat, phone and email. Over many years, Dukascopy Banks has won numerous industry awards including "Best Global Forex Bank", "Binary Options Broker of the Year", "The Best Forex Brand" and "Best Forex ECN/STP Broker".
Whilst dealing with this broker ourselves, we found that their customer service and communication is pretty poor and we can therefore not recommend their service.
The ECN broker's selection of account types is limited to just live and demo accounts. No matter if you are looking to access the Forex market, CFDs across various asset classes such as indices, shares, ETFs and cryptocurrencies, or if you're looking to engage in binary options trading - one account gives you access to the whole lot.
One special feature is, that customers may open self-trader and current accounts in non-deliverable gold (XAU London). Dukascopy Bank gold accounts are an alternative to purchasing physical gold. Investors benefit by holding the precious yellow metal without the need to store it physically. Dukascopy's exchange rates are competitive. These gold accounts are subject to custody fees and are guaranteed up to CHF 100,000 (the same as other bank deposits). Physical gold cannot be withdrawn from the gold account; instead, the holder will receive its equivalent in any of the following currencies: USD, CHF, EUR, GBP, AUD, CAD, CZK, DKK, HKD, HUF, ILS, JPY, MXN, NOK, NZD, PLN, RON, RUB, CNH, SEK, SGD, TRY and ZAR.
The website of Dukascopy - dukascopy.com - offers an above-average number of information and know-how offers. All users of the site get a Dukascopy opinion on the technical and fundamental condition of the market. However, the site isn't structured very well. The amount and display of information is confusing and the design is pretty poor as well.
Even though the site is of pretty poor quality, it does offer traders access to an extensive educational area as well as its own TV and market information news section, which covers a lot of ground for all clients that demand high-end insights and information. Tutorials and webinars are also available on different subjects.
The minimum deposit size for accounts with Dukascopy Europe is $100, while the minimum for Dukascopy Bank SA is $5,000.
Available deposit methods and payment options are limited to:
Credit cards (Visa and Mastercard)
Debit cards (Maestro and Visa Electron)
Bank wire transfers
Bitcoin transfers
The products that are available for trading include currency pairs, stock indices, metals, commodities and international stocks. Cryptocurrency (CFDs) are currently not offered as a trading instrument.
Apart from different bonuses and promotions, Dukascopy further offers a wide range of contests within its impressive Community platform.
Examples of bonuses: The equity bonus promises a bonus credit of 10 per cent on the last deposit, provided that certain payout conditions are met, which the customer can find out about on the company's website. The same requirements apply to the Volume Discount Program, which requires a specific volume of trading if the trader wishes to benefit from a 20 per cent commission bonus.
Like most brokers, Dukascopy provides a free demo account. However, there is a time limit for using the demo version. The demo account can be used without restriction for only 14 days after account registration. Other brokers offer unlimited use and access to the demo account. On the positive side, functionalities like SMS or infomail work with a demo account version as well. Traders can individually set their balance on the demo account between 1,000 and 1 million dollars. This enables a very intensive use of the test account. During our tests, we were able to try out all the broker's functions and trading options very realistically under real market conditions. Binary options trading can also be tested with a free, but limited (14 days only) demo account.
FOREX AND OTHER TRADING OPTIONS AT DUKASCOPY BANK
Large selection of FX pairs
4 commodities
300+ global stocks
12 indices CFDs
Dukascopy Bank offers Forex trading as well as trading in CFD markets. Available tradable financial instruments include major currency pairs and some minor pairs for the Forex spot market. Further, 4 types of commodities, 12 types of stock market indices, and more than 300 global stock CFDs can be utilized.
Dukascopy Bank offers a maximum leverage ratio of up to 200:1 during business days and 60:1 during weekends, holidays and market off time.
Accounts can be funded via bank wire transfer, credit or debit cards, Bitcoin transfers and bank guarantee.
Excellent trading platform options
Fast execution speeds
Attractive spreads starting from 0.2 pips
NDD & STP
Fast execution speeds and stable trading environment with no price or execution manipulations thanks to Dukascopy Bank's unique Swiss FX marketplace.
Attractive spreads (base spread for EUR/USD and USD/JPY 0.2 pip).
Tiered trading commission structure.
Security of funds promise.
ECN liquidity for all markets such as Forex, Metals, CFDs on commodities, indexes, stocks, cryptos and binary options.
Own proprietary JForex 3 trading platform with a wide range of features, charting options and indicators.
Universal trading tool allows clients to develop and test trading strategies through Java programming.
Third party bridge to the MT4 platform solution.
Wide range of trading orders including stop-loss and limit.
Equal prices and liquidity for all clients through single data feed.
Automated trading option based on jForex API and FIX API.
Visual jForex to use for "visual strategy construction".
18 deposit currencies.
Self-trader and current accounts in non-deliverable gold.
Most common trading styles such as scalping, hedging and Expert Advisors (EAs) allowed.
Access to sophisticated analytics and news reports.
PAMM module for money managers and professional account managers.
Gold trading account that allows traders to trade gold without having to purchase and physically store it.
DUKASCOPY BANK
PEPPERSTONE
THINK MARKETS
IC MARKETS
CMC MARKETS
XM
Dukascopy Bank is a solid broker offering an exclusive and innovative trading environment. Spreads are very competitive and so are commissions as well, especially for frequent and high-volume traders. One big minus is their customer service and communication and we would rather recommend other brokers that offer better, professional service and customer care.