This post is also available in:

Deutsch
Is FLATEX one of the best Forex Brokers? We conducted an in-depth review in January 2022 to find out the answer and bring it to you!
---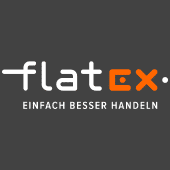 flatex is a German online broker and brand of flatex Bank AG. The company is headquartered in the German banking metropolis of Frankfurt am Main. The address of the online brokerage is: E.-C.-Baumann-Str. 8a, 95326 Kulmbach.
The company was founded in 2006 and was listed on the Frankfurt Stock Exchange in 2009. Flatex GmbH AG became Flatex Holding AG in 2012 and FinTech Group AG in 2014. The online brokerage business flatex has thus been a brand of FinTech Group Bank AG since 2014. The account and custodian bank is FinTech Group Bank.
Today, the online broker flatex is one of the top addresses in German, as well as European, securities, forex and CFD trading.
---
SECURITY, MARGINS AND TECHNOLOGY
BaFin regulated
Guaranteed deposit protection
flatex takes security, risk management and transparency very seriously and offers its clients the highest possible security standards.
As is the case with all German online brokers, the company is regulated and monitored by the German banking supervisory authority, the Bundesanstalt für Finanzdienstleistungsaufsicht (BaFin). flatex is also under the supervision of the Deutsche Bundesbank.
Deposit protection is also guaranteed under German law, as the bank is assigned to the Entschädigungseinrichtung deutscher Banken GmbH (EdB). This hedges all deposits to be reported under the balance sheet item "Liabilities to customers". These include demand deposits, term deposits and savings deposits, including registered savings certificates. These deposits are fully covered up to a total of EUR 100,000 per depositor.
Deposits also include liabilities arising out of securities transactions where the Bank's obligation relates to providing customers with possession or ownership of funds. For the right to the issue of securities, the compensation claim is limited to 90% of the liabilities and the equivalent of a maximum of 20,000 euros.
The company is regulated and monitored by the German banking supervisory authority, the Federal Financial Supervisory Authority (BaFin).
FLATEX
PEPPERSTONE
THINK MARKETS
OANDA
IC MARKETS
PLUS 500
CHARGES AND MARGINS AT FLATEX
Spread mark-up for trading CFDs
Flat fee for securities trading
Trade on foreign stock exchanges
premium trading
The trading offer of the online broker flatex includes trading in shares, foreign exchange (Forex), CFDs, funds, ETFs, ETCs, certificates, bonds and warrants.
All in all, flatex impresses with a clearly structured, affordable price model. In addition, investment products such as ETF savings plans or Bitcoin certificates are offered, as well as loans such as flex, Lombard and policy loans.
When trading CFDs, flatex charges a percentage order fee for some instruments depending on the leveraged trading volume. For these instruments there is at least a fee of 5.00 Euro. For orders placed by telephone, the minimum fee is 10.00 Euro.
Furthermore, as with all online brokers, financing costs are incurred for CFDs (all asset classes).
Although forex trading is "free", Commerzbank acts as a market maker for CFD trading. The costs incurred thus correspond to the spreads between purchase and sale prices.
In securities trading, only a fixed order flat fee of EUR 5.90 per order plus exchange fees is charged for trading via the stock exchange. For off-exchange direct trading, all fees are already included in the fixed order flat fee of EUR 5.90 per order. This pricing is quite respectable and stands out from the competition, as the comparison table below shows:

When trading on foreign exchanges, a fixed order fee of 15.90 Euro (USA, Canada, Austria & Switzerland) per order plus exchange fees is charged. For the European stock exchanges in France, Italy, the Netherlands, Belgium and Portugal, flatex charges a total lump sum of EUR 15.90 per order.
flatex clients interested in "premium trading" have access to Mini Futures, OpenEnd & Term Turbos and Factor Certificates with flatex's top partners: Morgan Stanley, Goldman Sachs, Deutsche Bank, UBS, Vontobel, BNP Paribas and HSBC. Trading can start from as little as 0.00 Euro per order flat.
Fast trade execution
MetaTrader 4 (MT4)
flatex trader 2.0
Guidants trade module
flatex offers the worldwide popular MetaTrader 4 (MT4) as a Forex trading platform. A multitude of international currency pairs, currency CFDs as well as the DAX® and the precious metals gold and silver can be traded with the flatex MetaTrader 4.
Real-time courses are available for web or mobile trading on Android (via tablet and smartphone) and Apple (iOS) devices.
flatex offers its own trading platform flatex trader 2.0 and flatex CFD2GO for CFD trading on all underlyings such as equities, indices, commodities, currencies (Forex) and interest rate products. This is a feature-rich, powerful trading platform that offers some sophisticated functions such as real-time push prices, trading with session tan, a comprehensive chart module with indicators for technical analysis or individual settings of order sizes, optical features and other professional functions.
All functions of flatex trader 2.0 can be found here: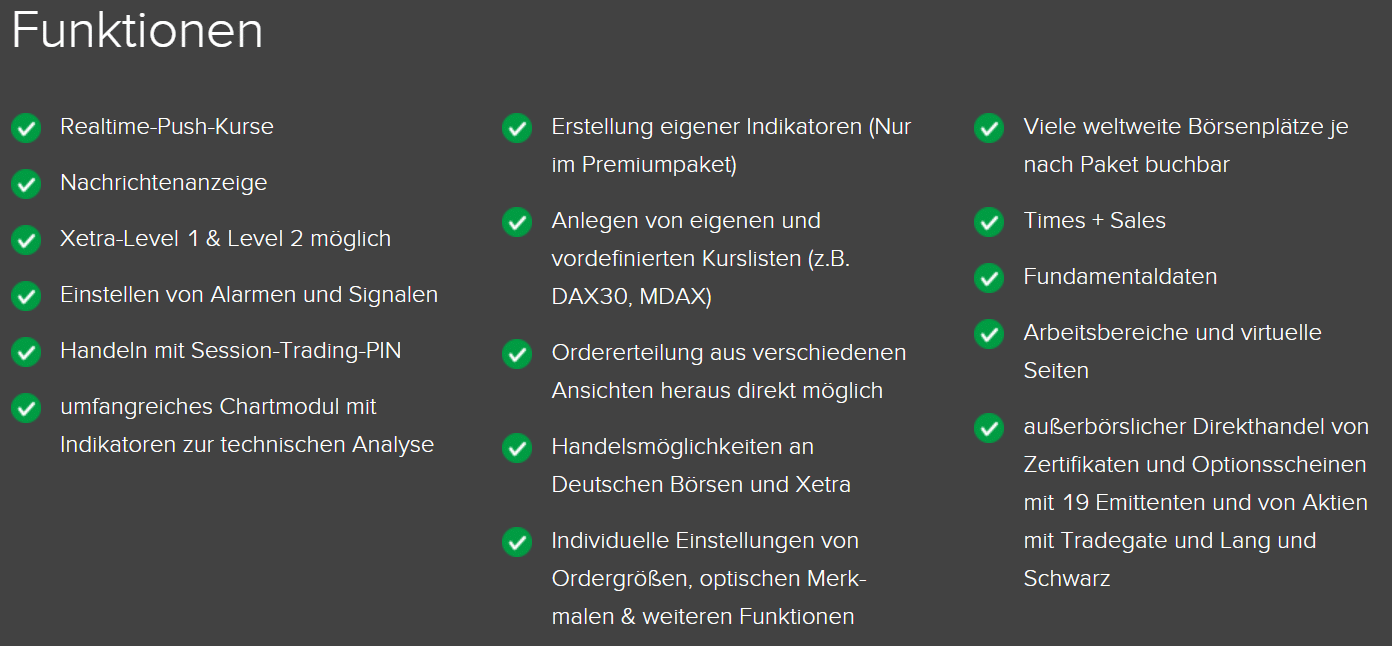 Demo accounts are available for testing the trading environment for all trading platforms when opening a flatex securities account.
An additional delicacy is the Guidants trading module, which provides real-time market data in the form of prices, charts and news, as well as innovative tools for evaluations, the possibility of networking with other users and experts or the individual design of your own trading desktop.
The trading platforms MT4 and flatex trader 2.0 are used for trading CFDs and Forex.
Execution of Speed Comparison
FLATEX
PEPPERSTONE
THINK MARKETS
OANDA
IC MARKETS
PLUS 500
CUSTOMER SERVICE, TRADING OPTIONS AND SPECIAL FEATURES
AN OVERVIEW OF FLATEX' CUSTOMER SERVICE AND CLIENTS
24/5 customer support
Thousands of tradable instruments
Multi-award-winning
flatex academy
In 2018, flatex was named "Best Online Broker" by the Handelsblatt for the sixth time in a row. flatex also received an award as "Fund & Certificate Broker of the Year 2017" from the online portal broker-test.de.
The customer service of flatex is available Monday - Friday from 8:00 a.m. to 10:00 p.m. both by phone and via contact form or email.
Also Youtube tutorials are offered to better understand the products, especially the trading platforms and trading tools.
The flatex Academy also offers a comprehensive and professional range of services on all topics relating to markets, the stock exchange and trading. flatex customers can access ebook training courses, follow current market opinions, comments and opinions, participate in interesting webinars with top speakers and exchange views with them live.
There is also a FAQ section available as well as access to some important forms and guidelines on the website.
All in all, flatex offers its clientele significantly more than most of its competitors.
FOREX AND OTHER TRADING OPTIONS AT FLATEX
70+ currency pairs
Metals, indices and commodities
FX, CFDs and shares
Funds, ETFs & Bitcoin Certificates
flatex clients have a wide range of tradable financial instruments to choose from: Shares, foreign exchange (Forex), CFDs, funds, ETFs, ETCs, certificates, bonds and warrants.
All domestic and foreign shares, certificates, warrants, bonds, funds and ETFs quoted in euros can be traded on Xetra and on all German floor exchanges. A favorable entrance is given thereby with flatex. OTC trading allows clients to trade directly with an issuer or broker. Orders are not processed via the stock exchange.
In foreign exchange trading, the investor has more than 70 different currency pairs at his disposal at no extra cost (only the spreads are the costs).
CFDs (contract for difference) include foreign exchange, equities, commodities, gold, silver, indices and bonds.
Around 5,000 funds and more than 350 ETF savings plans are also available via Comstage, db x-tracker and Lyxor tradable without order fee.
SPECIAL FEATURES OF FLATEX
MT4, flatex trader 2.0 & Guidants
Low commissions
Great overall offer
Fast trade execution
Excellent trade execution.
Two powerful trading platforms available: MT4 and flatex trader 2.0.
Guidant's trading module.
Thousands of markets to trade.
Low-cost trading of securities.
No minimum deposit required.
Competitive commissions.
Professional customer service and top trading tools.
flatex Academy with Youtube tutorials, webinars, eBooks and much more.
Premium trade can be accessed.
With flatex customers have access to thousands of financial instruments and products!
FLATEX
PEPPERSTONE
THINK MARKETS
OANDA
IC MARKETS
PLUS 500
flatex is one of the leading online brokers for trading CFDs, securities, funds, ETFs, certificates, etc. in Germany and Europe.  Award-winning services are offered to the general public at competitive prices. There is also cutting-edge technology, learning programmes and professional support. All in all a great offer!