Is TASTYWORKS one of the best US Brokers? We conducted an in-depth review to find out the answer and bring it to you! Recently has been included by Engine Forex among the NFA Regulated Brokers.
tastyworks is a vibrant, young and dynamic options trading brokerage headquartered in Chicago, USA, that was founded by the industry experts Scott Sheridan, Tom Sosnoff and Kristi Ross in 2017.
The team of entrepreneurs and professional options traders established tastyworks after selling their first successful brokerage firm thinkorswim, which is now owned by TD Ameritrade.
| | |
| --- | --- |
| Max Leverage: | 50:1 |
| Platform: | |
| Min Deposit: | $0 |
| Spread: | n/a |
| Cuts out Dealing Desk: | Yes |
| | |
| --- | --- |
| Deposit / Withdraw: | |
| Rebates Engine Forex: | Coming soon! |
SEC regulated
Registered with FINRA
High-level web security
Protection through SIPC
tastyworks is licensed and regulated with the Financial Industry Regulatory Authority (FINRA), Inc., a private corporation that acts as a self-regulatory organisation in the US. 
tastyworks is also a member of the Securities Investor Protection Corporation (SIPC) which protects clients' funds  up to $500,000, which includes a maximum of $250,000 for cash claims. Funds protection only provides protection against the loss of securities and cash due to the insolvency of the brokerage firm, but not against trading losses or fluctuation/ depreciation in the market value of customer securities. 
tastyworks is licensed and regulated with the Financial Industry Regulatory Authority (FINRA), Inc., a private corporation that acts as a self-regulatory organisation in the US. 
CHARGES AND MARGINS AT TASTYWORKS
Low trading fees
Fixed maximum commissions
No fees on closing trades for stocks & options on stocks + futures
tastyworks offers low-cost options trading fees and low commissions. Options on stocks and futures as well as stock trades are not subject to any closing trade fees. Only futures trading incurs a low fee of $1.25 per contract for closing a trade. 
Maximum commissions on opening equity option trades are now capped to $10 per leg for listed options, which puts tastyworks far ahead of its competition. No matter if you look at "puts or calls", "verticals" or "iron condors", pretty much all major competitor brokers charge higher commissions on all type of lot sizes!
Here's a quick overview of general tastyworks charges: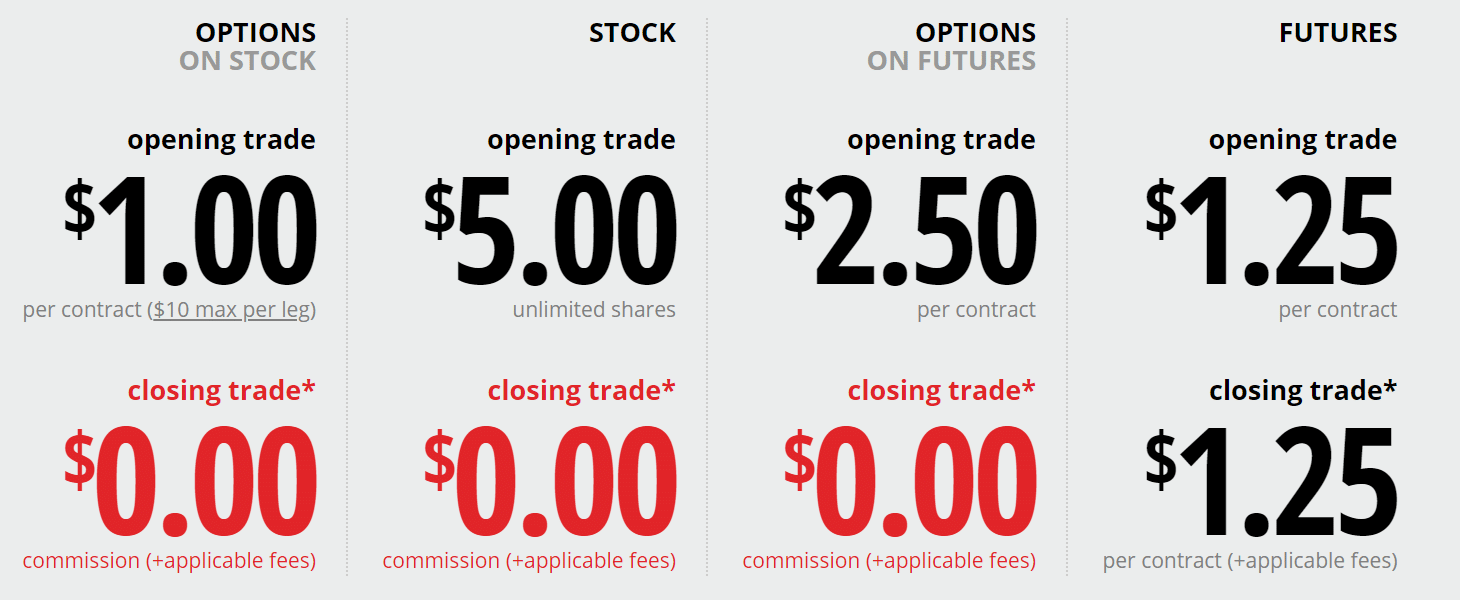 Fast trade execution
Own proprietary platform
Mobile trading app
Sophisticated Watchlist feature
tastyworks offers their own proprietary trading platform which is well organised, user-friendly and ideal for option traders. It was designed, created and set up by the founders themselves, professional options traders, that knew exactly what is best for options trading. Built-in trading strategies to trade options can be utilised with ease and active traders can also trade stocks and futures with it, even though it's not the best trading platforms to trade stocks with.
The platform itself can be quiet overwhelming at first glance but allows a very decent range of order types and functionality, but cannot be customised at this point of time. Experienced traders, especially those that are looking for an easy-to-use options trading platform, won't be disappointed as this masterpiece of a options trading platform was designed to guarantee the best use for options strategies.
One great feature of this highly sophisticated options trading platform is the tastyworks watchlists feature. It currently boasts 11 different preset watchlists (Positions, Notable Stocks, High Options Volume, Live on tastytrade, tastytrade Futures, Liquidity, tastytrade Stocks, Market, Tom's Watchlist, tastytrade Default, Upcoming Earnings) to choose from, which can be really beneficial and useful to one's trading strategy.
The tastyworks platform is available as a browser (web) and desktop platform, as well as a mobile platform. The mobile app is available for both Android and iOS devices. At this point of time, mobile trading is not as convenient as desktop trading because it is lacking some of the features, but it is still a feature-rich order entry interface with good visualisation.
The tastyworks platform offer four standard stock trading order types:
Market
Limit
Stop Limit
Stop Market
For options trading, there are two views available: standard option chain (called Table) and their unique visual trading interface (called Curve).
With both view options, these predefined trading strategies can be utilised:
Vertical
Strangle
Straddle
Option
Iron condor
Covered stock
Butterfly
Jade Lizard
Calendar
The mobile app is available for all major Android as well as Apple (iOS) devices. It allows clients to trade stocks and provides options trading as well as cryptocurrency trading.
Execution of Speed Comparison
AN OVERVIEW OF TASTYWORK's CUSTOMER SERVICE AND CLIENTS
24/5 customer support
Large client base
Margin accounts available
Retirement account options
tastyworks offers excellent customer support via telephone Monday to Friday, 7:00 am to 5:00 pm (Chicago time) when markets (in the US) are open. tastyworks customers can further contact the support, tech, accounts and trade desk teams via email, fax and postal mail.
tastyworks is available to customers inside as well as outside the US, but due to certain restrictions, they cannot accept clients from Canada or Australia at this time.
Available tastyworks accounts include the following:
Two Individual account types:
Margin Account, which allows for margin trading (borrowed capital) and is called "The Works".
Cash Account, which does not offer the benefits of a margin account. This means that the account holder must be able to cover their trade's full purchase price with the money already in their account.
Both account types are also available as an International Account for clients outside of the US.
Retirement account types:
Traditional IRA
Roth IRA
SEP IRA
Further, Corporate, Trust and Joint accounts are available.
In addition, tastyworks will be rolling out these two custodial account options in 2019: UGMA/UTMA (an account created by an adult who is the custodian on behalf of a minor who is the beneficiary) and Coverdell (a type of savings plan intended to contribute funds towards a student's qualified educational expenses).
One of the coolest features of tastyworks however, is their affiliate tastytrade, which is a real financial network, producing 8 hours of live, real-time programming every weekday. Traders can watch the experts of tastyworks navigate the markets, provide actionable trading insights, and teach how to trade. With over 50 original segments, and over 20 different personalities, tastytrade is dedicated to help everyone, no matter if novice or experienced trader, take their trading to the next level.
Available funding options include: ACH and Check (only available with a US bank account), Wire transfers and transfers from another brokerage. ACH deposits and withdrawals are free, but Wire transfers incur a standard fee. Even though these check and wire transfer fees are pretty standard, it is not very convenient for international clients since wire transfers are the only option to deposit and withdraw funds.
There's no minimum funding amount or account minimum necessary to open and hold an account with tastyworks.
FOREX AND OTHER TRADING OPTIONS AT TASTYWORKS
Stocks
Options
ETFs
Cryptocurrencies
tastyworks offers trading on stocks, covered and uncovered options, covered and uncovered option spreads, options on futures and futures trading.
tastyworks fees are one of the lowest in the industry, especially looking at other US brokerage accounts of all major competitor brokerage firms. No data keeping or inactivity fees apply with tastyworks, and no commissions are charged when closing options and stock trades. Only futures trades incur a closing trade fee of $1.25. This already is a huge benefit but the party doesn't stop there. Here is tastyworks' latest pricing structure:
Options on stocks costs are only $1.00 per contract with a maximum fee of $10 per leg on these equity option trades. Options on futures fees are just $2.50 per contract, opening trade costs for stocks are only $5 and on futures $1.50. 
Again, there are NO applicable fees or commissions on closing trades for any of these instruments (apart from futures) with tastyworks!
In 2018 tastyworks also decided to cap the maximum commission on opening equity option trades to $10 per leg for listed options (Exchange, clearing and regulatory fees still apply. All futures options and the following index products are excluded from this offer: SPX, RUT, VIX, OEX, XEO, DJX and NDX). On top of that, the more lots a trader trades, the lower the commission charges.
Here's a nice overview on how that plays out compared to the competition on the market: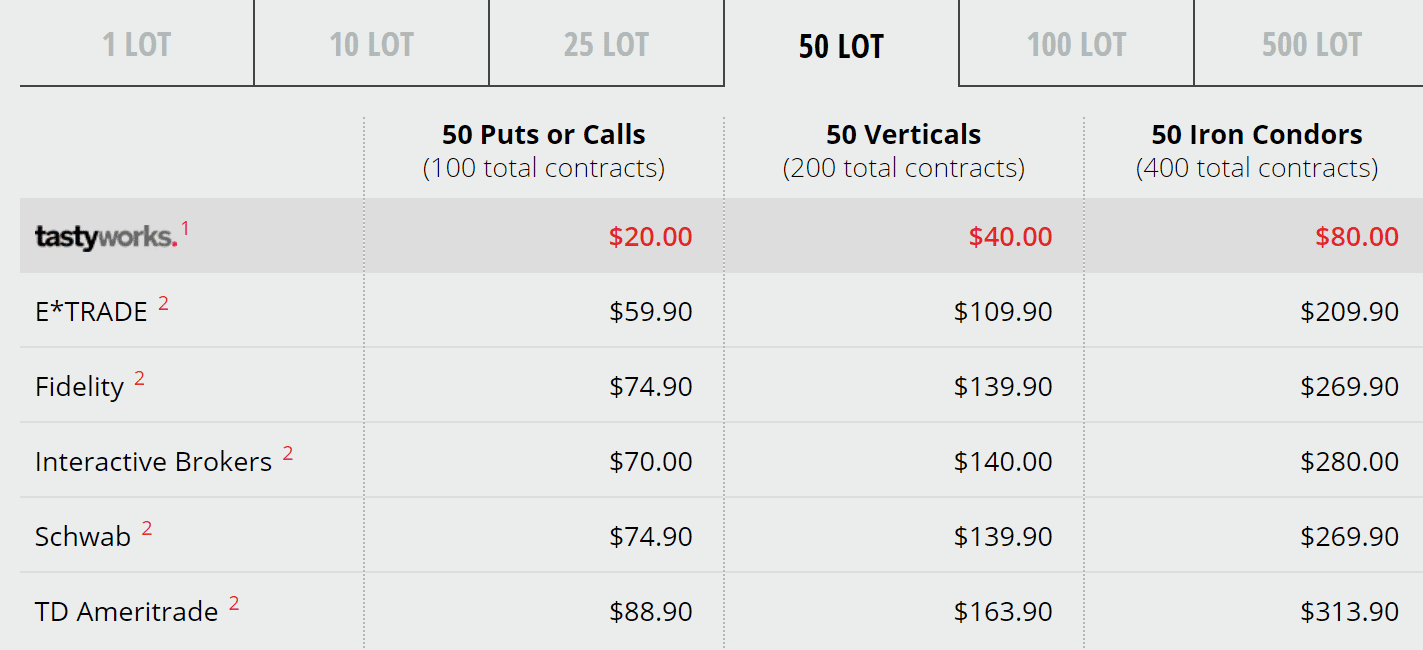 SPECIAL FEATURES OF TASTYWORKS
Proprietary trading platform
Low commission trading
tastytrade
Interesting account selection
Low-cost trading app.
Very low commissions on all trades.
tastytrade online financial content network.
Web- and mobile trading.
Trade stocks, options and futures.
Margin and cash accounts.
Retirement account options (Traditional IRA, Roth IRA and SEP IRA).
tastyworks is registered as a broker/dealer with the National Futures Association (NFA) and FINRA.
tastyworks has grown to one of the most popular options dealers in the US and their founders certainly know what they're doing. After selling their first hit thinkorswim, the founders came through with yet another powerful platform and concept which is helping to shape the online trading industry as a whole. Especially options traders will enjoy trading with tastyworks and their low-cost services.