Is TRADEDIRECT365 one of the best Australian Forex Brokers? We conducted an in-depth review to find out the answer and bring it to you!
TradeDirect365 is the trading name of Finsa Pty Limited. It is an Australia-based online broker that is licensed and regulated by the Australian Securities and Investments Commission (ASIC).
Finsa's headquarters are located in Sippy Downs in Australia's laid-back Sunshine Coast in Queensland.
Fairly new to the market, this broker challenges the market leaders in the Forex space with tight, fixed spreads and a fair and simple approach to trading.
It was originally founded by industry savvy people who were not satisfied with the offerings that were available from brokers at that time. Specifically, TradeDirect365 was developed with the intention of delivering low-cost, simple, and fair trading services for multiple asset classes.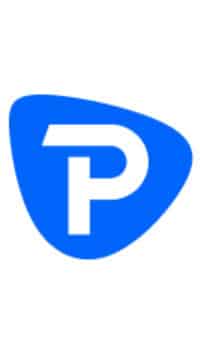 | | |
| --- | --- |
| Max Leverage: | 200:1 |
| Platform: | |
| Min Deposit: | $0 |
| Spread: | Fixed from 0.8 Pips |
| Cuts out Dealing Desk: | No |
| | |
| --- | --- |
| Deposit / Withdraw: | |
| Welcome offer: | Up to $500 welcome bonus |
| Rebates Engine Forex: | Coming soon! |
SECURITY AT TRADEDIRECT365
ASIC regulated
Segregates client funds
TradeDirect375 is licensed and regulated by the Australian Securities and Investments Commission (ASIC).
All clients' funds are maintained separately from the company's finances and are securely stored in segregated trust accounts. The company guarantees that client funds are never used for operational or investment purposes.
TradeDirect375 provides tight, fixed spreads round-the-clock and ensures that all costs are fully transparent.
CHARGES AND MARGINS AT TRADEDIRECT365
Commissions of $1.50 per lot
Forex spreads from 0.8 pips
Up to 200:1 leverage
Margin requirements differ between the available asset classes and individual markets. Here's a quick overview of TradeDirect365's typical margin requirements:
Margin requirements are from 0.50% on Forex, indices, and commodities; 5% for ASX, US, EU, and UK stocks; and 40% on cryptocurrencies.
Margin requirements are reduced when a stop-loss is placed at the time of order. The calculation for this is based on the difference between the current trading price and the stop loss level.
There are no minimum deposit requirements set in place, and customers can choose between AUD, USD, EUR, or GBP as deposit currencies.
Depending on the trading platform in use, different assets can be traded, with a lot more choice on the CloudTrade CFDs, such as 31 Forex pairs, 13 Indices, 7 Commodities, 3 Cryptocurrencies and a large selection of AU, US, EU and UK Stocks.
A responsible maximum leverage of up to 200:1 is available.
TradeDirect365 provides low-cost trading and doesn't charge any commissions on their CloudTrade CFDs platform on any trading products apart from ASX stock trades (0.07%). Commissions on MetaTrader4 are only $1.50 per lot, which is significantly less than that charged by other brokers.  
Spreads start from 0.8 pips; for example, on the popular AUD/USD or EUR/USD pairs.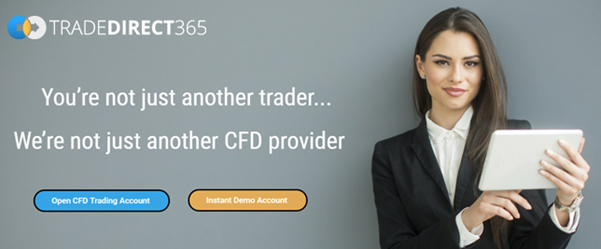 Solid trade execution
MT4 & MT5 platforms
CloudTrade CFD
Two excellent trading platforms can be utilized at TradeDirect365.
Its own proprietary trading platform is called CloudTrade CFD, and it takes the form of a web- and app-based CFD trading platform that offers tight fixed spreads and 24/5 coverage across thousands of markets, including indices, the Forex market, stocks, commodities, and cryptocurrencies.
CloudTrade CFD is a highly intuitive, feature-rich yet easy-to-use platform that features a sleek design that doesn't overcomplicate things. Regardless of whether you are a novice or experienced trader, this platform makes trading simple and fun.

In addition to its proprietary platform, TradeDirect365 offers traders access to the world's favourite MetaTrader4 with all its regular features such as EAs (Expert Advisors), for example. Tight, variable spreads and low commissions are available across indices, commodities and the Forex market. MetaTrader4 is available as a download version for PC and MAC or as mobile/iOS apps.
Comparing both platforms with one another, it becomes quite obvious that CloudTrade CFD is enriched with more features, allows traders access to more markets and, therefore, tradable financial instruments than MetaTrader4. In addition, it is absolutely free of commissions for almost all asset classes – the exception being ASX stocks, which incur commission charges of just 0.07%. Low commissions of $1.50 per traded lot are charged on MT4.
CloudTrade CFDs offers thousands of tradable instruments, such as 31 Forex pairs, 13 indices, 7 commodities, 3 cryptocurrencies (BTC, ETH and XRP) and a large selection of AU, US, EU, and UK stocks. With the popular MT4, clients can access 12 indices, 26 Forex pairs and 4 commodities. However, no cryptos or stocks are available.
Below is a comparative list of all features and specs that are available on both platforms: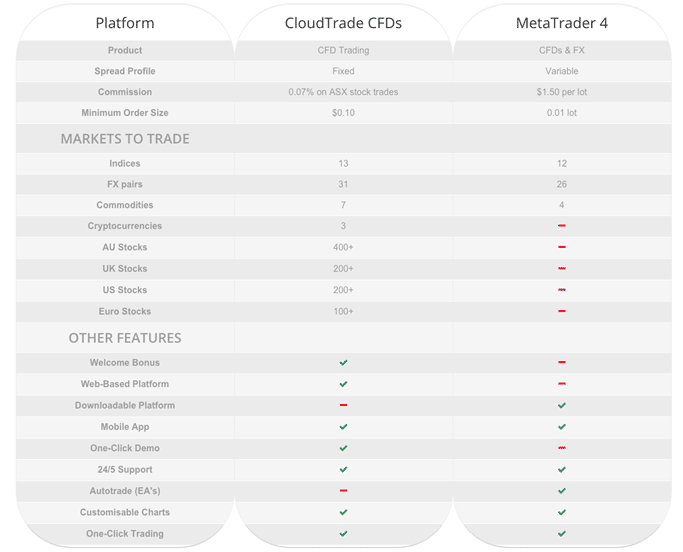 AN OVERVIEW OF TRADEDIRECT365'S CUSTOMER SERVICE AND CLIENTS
24/5 customer support
2 account type options
Demo account option available
TradeDirect365's customers can contact the support team from Monday through to Friday between business hours from 9 am-5 pm AEST via phone or email only.
With their low-cost trading solutions, TradeDirect365 sets new standards in the online trading space.

The trading products that are available include 31 Forex pairs, 13 indices, 7 commodities, 3 cryptocurrencies (BTC, ETH and XRP) and a large selection of AU, US, EU, and UK Stocks.
To keep things simple, clients only choose between the two available trading platforms: CloudTrade CFD and MT4, and there are only two account types available: Live or Demo.
A small learning and educational section is also available to customers. This includes FAQs, a glossary, and educational scripts and tutorials.
FOREX AND OTHER TRADING OPTIONS AT TRADEDIRECT365
31 currency pairs
3 cryptocurrencies
Selection of AU, US, EU & UK shares
7 commodities & 13 indices CFDs
TradeDirect365 offers up to 31 Forex pairs, 13 indices, 7 commodities, 3 cryptocurrencies (BTC, ETH and XRP) and a large selection of AU, US, EU and UK Stocks.
Traders can choose to trade the above-mentioned options on some of the world's top markets such as the Australian S&P 200 Index, UK FTSE 100 Index, US S&P 500, Germany's DAX 30, Japans Nikkei 225 and Hong Kong's Hang Seng 50. In addition, Australia's SPI Direct Futures, Euro Stocks 50 or the US Tech 100 can be utilized.
At this stage, three Cryptocurrency CFDs can be traded: Bitcoin, Ethereum and Ripple's XRP.
The commodities that are available are spot gold, spot silver, us crude oil future, Brent oil future and Brent/us crude differential future.
When using TradeDirect365's own proprietary platform, traders can further access individual equity markets such as Australian, US, European and UK Shares. 
TradeDirect365 offers maximum leverage of up to 200:1, four different funding currencies (AUD, USD, EUR and GBP), micro-lot trading starting from 0.1 lots and tight spreads from 0.8 Pips (for example, on the popular AUD/USD or EUR/USD pairs).
SPECIAL FEATURES OF TRADEDIRECT365
Popular MT4 & CloudeTrade CFD as platforms
Most trading styles allowed
Tight, fixed spreads starting from 0.8 pips
Stocks & crypto trading
TradeDirect365 offers tight fixed spreads from 0.8 pips and medium leverage of up to 200:1.
Most trading types, such as Expert Advisors (EAs), scalping and hedging, are allowed.
Metatrader4 and TradeDirect365's own proprietary platform, CloudTrade CFD, which is easy-to-use, intuitive and offers commission-free trading (only 0.07% commission charged on ASX Stocks trading) are available.
Low- or no commissions are charged, depending on the platform and assets traded.
Stock markets and cryptocurrency trading available.
TRADEDIRECT365 is a very decent Forex and CFD provider with professional trading conditions, a stable trading environment and a great selection of tradable instruments. All type of traders and no matter if novice, advanced or veteran trader, can benefit from TRADEDIRECT365's offering. Overall a great, regulated broker.